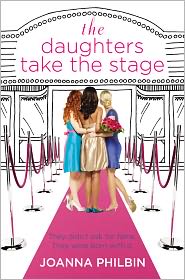 Novel: The Daughters Take The Stage (Daughters #3) by Joanna Philbin
Release Date:
April 20th 2011
Format:
Hardcover Copy
Source:
Local Public Library
The daughter of chart-topping pop star Holla Jones, stylish and sensitive Hudson Jones is on the brink of her own musical debut. Hudson has inherited her mother's talent, but she hasn't yet embraced Holla's love of the megawatt spotlight. Can Hudson find a way to perform that reflects her own low-key style? Or will Holla see to it that her only daughter becomes a pop music sensation?
(Synopsis from Goodreads)
Willa's Rambles:
Joanna Philbin takes you behind the scenes into the lives of Holla Jones' daughter, Hudson Jones in the last novel in the Daughters series. First it was Lizzie, then Carina, and now Hudson, the one I loved from the moment I met her is
The
Daughters.
This installment in The Daughters series begins directly after Hudson's failure to sing on stage at their school dance that Carina put together. Hudson describes how her mother reacts to Hudson's stage fright and the issues between her and her mother over that night. Hudson's biggest issue throughout the entire novel is her mother, who controls Hudson's life to the point of what Hudson eats. When a friend at school offers to be Hudson's life coach, Hudson decides to give it a try.
About halfway through the book, Hudson discovers again why she loves playing music and writing it, but this time with a jazz band outside of the city. Together the band helps Hudson rediscover who she really is and why she first wanted to make the album that changed it all.